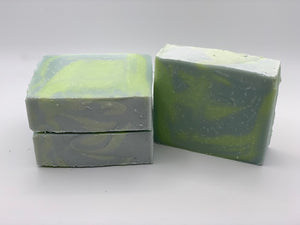 This soap is packed with all natural ingredients listed on the package and scented with Rosemary and Tea Tree Essential Oils. This soap is made in small batches with the cold process method, so no two soaps are exactly the same in color and pattern. 
Color: Sky Blue, Enchantment
Weight: Approximately 4.2 oz / 119.07 grams
Size: Approximately 2.5" H x 3.25" W x 1" D
Ingredients: Olive Oil, Aloe Vera Juice, Shea Butter, Coconut Oil, Sodium Hydroxide, Rosemary and Tea Tree Essential Oil, Mica Colorant
Care Instructions: For a longer lasting hard bar of soap, keep out of a direct stream of water and use some type of draining system, so that your soap does not constantly pool in water.

***Please stop use if any irritation occurs!!***
This product is not intended to diagnose, treat, cure or prevent any disease**Intended for External Use Only**. All products are "use at your own risk" and Arlotte' will not be responsible for reactions due to allergies or skin sensitivities.