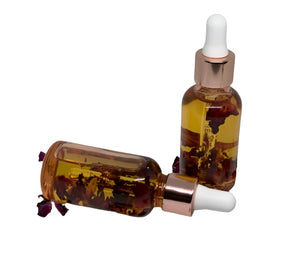 Glo with Me is a luxurious facial oil that will bring the natural glow back to your skin. Perfect for all skin types, this pampering oil can be used daily to bring about a smoother, softer complexion with a radiant, youthful look. Reclaim your natural beauty with Glo with Me.
Ingredients: Safflower Oil, Hempseed Oil, Rosehip Oil, Marula Oil, Jojoba Oil, Organic Rose Petals, Essential Oil
***Please stop use if any irritation occurs!!***This product is not intended to diagnose, treat, cure or prevent any disease**Intended for External Use Only**. All products are "use at your own risk" and Arlotte' will not be responsible for reactions due to allergies or skin sensitivities.